Triple Eight Safety Pads - $32.00
(Jr, Sm, Med & Lrg)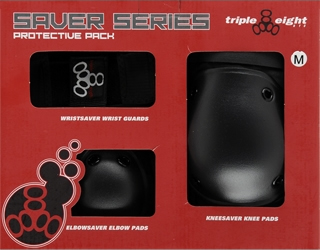 This set includes wrist and palm protectors, kneepads and elbow pads.
These pads are well suited for powerbocking and have been tested by DC Power Stilts students under the most grueling of conditions.
The polycarbonate (hard plastic) part is designed for smooth, hard, urban surfaces which allows for sliding which greatly reduces any potential impact.
The Triple Eight pads are made of high grade durable fabrics, Ethylene-vinyl acetate (EVA foam) padding, and polycarbonate full coverage caps. The wrist guards offer great support and protection with high density impact-resistant molded ABS splints on front and back of wrists for support. The design provides superior protection without restricting movement.
Padding is cool and should ALWAYS be worn while operating power stilts. While a fall is uncommon, those who push the boundaries of their experience may take a spill. At normal speeds, and with proper protective gear, the effects of most falls are minimal.
Pads are required at all activities with DC Power Stilts.
(Also good for use with roller sports)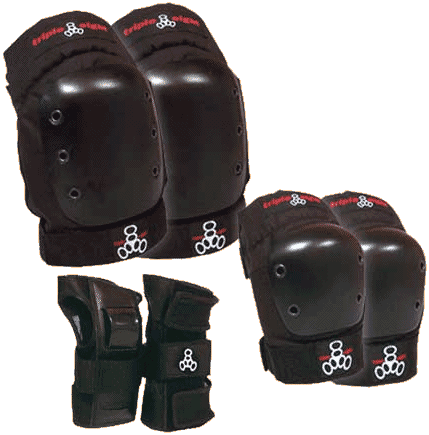 Sizing Guide
junior– for kids (7-7.5 inch hand circ.)
small– for teens and smaller adults (7.5-8 inch hand circ.)
medium– adults (8-9 inch hand circ.)
large – adults (9-10 inch hand circ.)
Tip: How to Measure Hand Circumference (at the knuckles)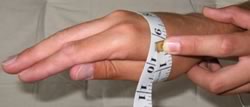 Should your sizing be off, exchange the item for the proper size, or better yet, try on our demo pads prior to making your order.
(Padding is cool and should ALWAYS be worn!)

Add this to your Paypal shopping cart
:
No shipping charge if picked up in person.
Please note that pads can be damaged over time through wear and tear as well as through impacts, I suggest periodically replacing them or shoring them up with tape.
Tip: To wash pads, run them in your washing machine on the gentlest setting.