As a service to the local and online community, I've compiled some good information on online videos and resources that are instructional and will help you learn to take your bocking to the fullest potential.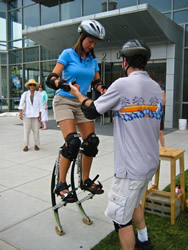 1st Tip - Get free instruction
If you can get to a free try-out lesson with DC Power Stilts, a DC Power Stilts Affiliate, or an experienced instuctor with a reputable company, you should go for it!
A $20 lesson discount is offered when you place an order for your own pair of power stilts.
2nd Tip - DC Power Stilts Blog
Much advice has been posted from jump progressions, learning to get up after a fall, all the way to maintenance and teaching ideas. Categorized under: "Tips"
3rd Tip - Poweriser Pages
Check out the "learning tips" forum, Here is a forum with advice on on practicing, And finally the knowledge Section with answers and technical details on most basic issues.
4th Tip - Meet Up!
One of the best ways to get better, have fun and meet others is to attend a meetup! This interview shows the learning that takes place:

4th Tip - Online Free Video Lesson
There is a pretty good series of free online video lessons at Expert Village. His explainations are pretty good, but demonstrations could have been done more clearly. Also because he is so clearly an expert, it's a little hard to see some of the issues and challenges that a beginner would need to overcome.
Private Lessons


Add a lesson to your shopping basket: Private One Hour Lesson (Beginner)
Lessons may also be purchased on location with check or cash.