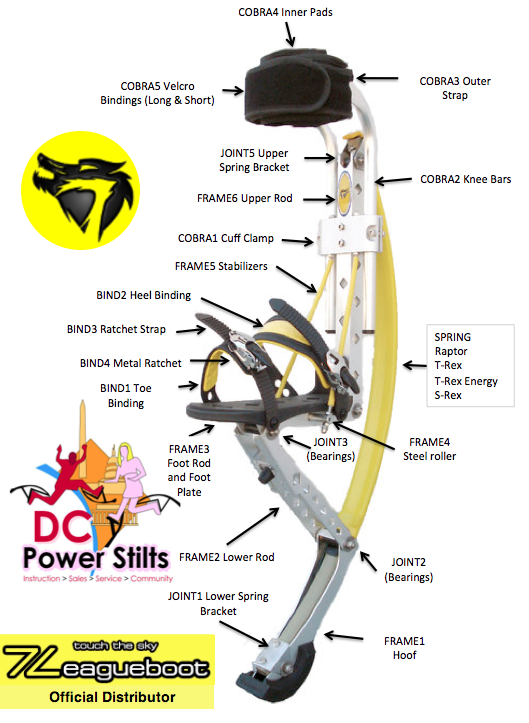 DC Power Stilts Parts Upgrade
> DCPS Foot Binding Upgrade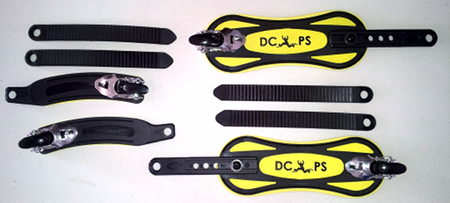 7 League Stilts Parts Online
> Replacement Springs
> Replacement Hooves
> 7s Stilts Parts Catalog (2013 - Latest)
Ordering Parts from the catalogs
From the "upgrade" kits to the bearings. Parts are laid out by type and on a schematic of the replacable special parts. Nuts / bolts are not listed because they are widely available at any hardware store (Metric), but we can usually provide for you at additional cost. Please contact DC Power Stilts to order parts from the catalog if they aren't listed on the site.

No shipping charge if merchandise is picked up locally.
Parts Discount for Stilt Customers
Buy your stilts from DC Power Stilts and enjoy a 10% Parts discount for an entire year!
Service
DC Power Stilts is a community-oriented DC area business. In order to ensure that everyone is bocking at peak efficiency, we stock spare parts and will provide free service/technical assistance to customers.
Do you need new footpads? Want your spring replaced? Wear and tear is normal for this kind of product, so you may want to replace worn parts to keep your stilts in tip-top shape!
Some suggested modifications for your stilts:
Fitting Adjustment
Additional Spring Protection - Customize using colored tape!
Tube stoppers... stabilize and hold them in place
Custom footpads (Tire socks) to help with hoof wear & tear.
Bolt covers to prevent scratches
Knee loop padding (For classic model)
Night Lighting
If you are a stilts customer and order spare parts through us, we'll provide maintenance and replacement service free of charge. (you must be able to drop it off/pick it up)