Demonstration plus 10-min tryout lesson - $15.00

In addition to a ten-minute tryout lesson, private or group lessons and event experiences are also offered.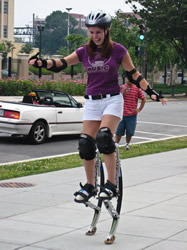 DC Power Stilts believes that the only way to spread the excitement and joy of this new sport is to show it to you and let you experience it yourself.
What is included
First a quick demo of running, jumping and a stunt or two. Then we'll outfit you with your stilt rental and protective gear. Finally, you'll get ten minutes of personalized one-on-one training and interactive feedback based on your performance.
Many people learn to balance easily and are able to bock around after only a few minutes. Bring your friends... everyone can try it and photos are encouraged.
A try-out lesson is free with a purchase!
Take $15 off of any pair of stilts bought with (or right after) your lesson, plus enjoy our expert help adjusting your stilts and taking your first steps. An excellent way to jump into the sport!
DC Power Stilts - Its easy and safe to learn via a tryout Lesson

(Pads and a signed liability waiver are required)
Where
10-Minute tryouts are currently available by appointment at Willoughby Park in Friendship Heights.
When
Lessons are available weekends and by appointment. Lessons are not held if it is rainy or wet for safety reasons.

Lessons may also be purchased with check or cash.