Triple 8 Gotham - $56
(sizes: EXtra Small, Small/Medium or Large/X-Large)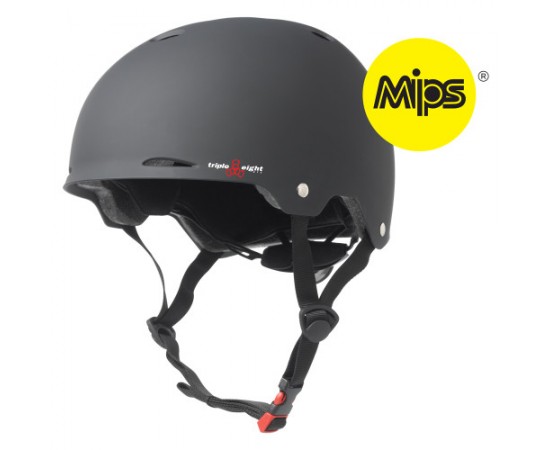 A dual-certified skate/bike helmet is the best choice for bockers as it best covers the entire range of situations and speeds for power stilts. The ASTM F-1492 (Skate) certification protects you and offers durability at low speeds, while the U.S. CPSC (Bike) certification protects you when you're running or learning bigger tricks.
Features:
MIPS Technology: Developed by brain surgeons and scientists to reduce rotational forces to the brain caused by angled impacts
Dual Certified: Complies with ASTM Skate and U.S. CPSC Bike safety standards
ABS Outer Shell with patented Conehead EPS liner technology providing a lighter helmet with greater energy displacement on impact
Complete with our renowned Sweatsaver™ Fit Pads for added comfort
Adjustable Fit Dial System, with reflective dial, to create a custom fit
Grooved EPS for excellent air flow
Includes 2 sets of fit pads to customize fit
Gotham helmets just got smarter, with MIPS technology that reduces the risk of brain injury. MIPS is a low-friction layer in the helmet that absorbs much of the rotational violence during a fall, reducing harm to the brain. The Gotham also features the patented Conehead EPS liner, Triple Eight logo vents and a subtle brim. No other helmet comes close to the comfort, safety and good looks of the Gotham with MIPS.
Helmets are required at all activities with DC Power Stilts.
We also suggest they be worn at all times while powerbocking. In order to give you the ability to make the best choice, all users should at least own a good helmet.
Confidence that you are wearing a high-performance safety helmet so you can try new and exciting stunts you would never attempt with out a helmet. (But please – be conservative!)
Sizing
head size
head size (cm)
note
Small/X-Small
18.9–21.3 inch
48 – 54cm
Perfect size for small kids
Both sizes come with a fit kit to dial-in the fit for maximum comfort.
Small/Medium
21.7-22.8 inch
55 – 58cm
Fits most kids and teens plus petite-average women
Large/XL
23.2–24 inch
59 – 61cm
Fits most men and some women
To ensure a perfect fit, measure the circumference of your head starting in the middle of your forehead and match it with the sizes below. Or for more details on measuring and fitting: Triple-8 fit video.
Color: classy in Black rubber, matches your stilts and goes with anything!
Helmets are cool and should ALWAYS be worn while operating power stilts. While a fall is uncommon, those who push the boundaries of their experience may take a spill. At normal speeds, and with proper protective gear, the effects of most falls are minimal.
Also ideal for: Biking, Skateboarding, In-Line Skating(Rollerblading), and Roller Derby.
Should your sizing be off, exchange the item for the proper size, or better yet, try it on prior to making your order.

Add this to your Paypal shopping cart
:
No shipping charge if item is picked up in person.