PowerSkip Classic: $1795.00
(for professionals and performance teams)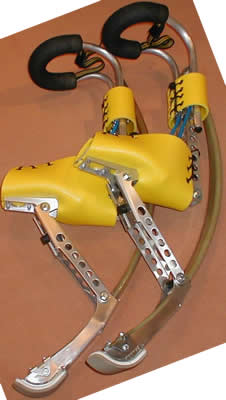 The legendary stilts for jumping and performing acrobatics. Jump higher with these than any other available power stilts. Each pair is crafted and engineered in Germany using aerospace materials under the supervision of the Böck Family. The Böcks are the original designers and patent holders of power stilts.
Powerskip Springs are lightweight fiberglass with a very soft (responsive) initial reaction, but high maximum stiffness for extreme energy transfer.
Trivia: fiberglass is also used for rotor blades on military helicopters
Spring energy to weight ratio is the best of any power stilts available:
Unit weight: 7.7 Lbs.
Spring Energy max: 700 Joule
Spring Deformation : 32 cm
Flexible Binding System on the PowerSkip Pro allows this stilt to fit nearly all shoe sizes and is the most comfortable form of binding available. Powerskip Classic offers flexibility comfort and performance that makes itideal for use by many users or a team.
Tip: The Footplate does not pivot as it does on the pro version. If running is important to you, check out the PowerSkip Pro.
Professional Acrobatic Team Demo

Designed for professional use and durability, the PowerSkip is engineered to be tough. Each replaceable part's lifetime is defined through continuous use under professional conditions. Many professional performance teams are using PowerSkip stilts. Read the PowerSkip warrenty
Choosing your Powerskip Spring
Model
Recomended Weight Ranges
Standard Use
Jumps Up to 5'
Extreme Use
Jumps up to 6.5ft
PS460
121-165 lbs
PS520
165-209 lbs
110-165 lbs
PS580
187-231 lbs
132-187 lbs
PS640
209-253 lbs
154-209 lbs
Note: this item is special order and can take a few weeks to deliver. Sales are final on this item. No shipping charge if picked up in person.