Capture the Flag on Stilts!
Captial Bocking USA
"150% fun", "learned alot", "don't hesitate to come "
June 24-26, 2011 Weekend
Click here for more details of the event
Game Field: Lafayette Square
A beautiful and historic backdrop for a competetive scene. Note that in the nuetral zone players can relax and enjoy the views.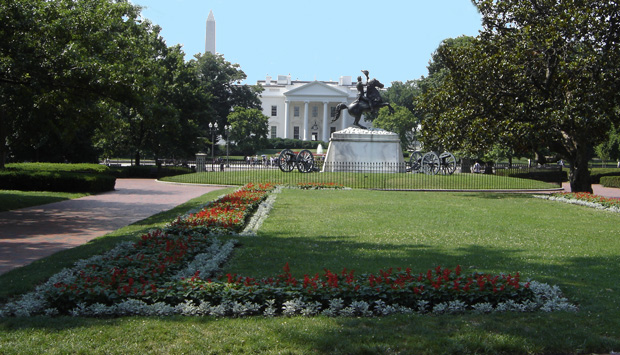 2011 Capture the Flag on Stilts
The field is as follows: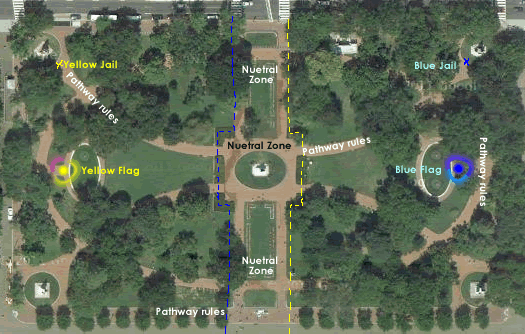 Note the pathways which have special tagging rules.
Sunday (June 26)
11:00-1:00PM: Capture the Flag on Stilts

Meetup at 1600 Penn. Ave (the White House)
Spectators, please assist with unattended items.
To the winning team goes the points
Participate!
Join us in the challenge! Suitable for beginners+ who bring their stilts and can walk/balance on their own.
Don't feel comfortable on stilts? We would love to have new participants as well as supportive spectators / photographers.
Stilt Capture the Flag Rules:
Complete safety gear is required: knee, elbow and wrist pads pads plus helmet.
Be the first to bring your opponent team's flag to the center. (The center judge)
Flag belts:

Defenders must remove an opponent's flag (except with a remote tag).
Flags must be positioned at the sides, with velcro facing outwards.
Must be worn properly at all times, with shirts tuck in/out of the way.
Flags must be properly positioned prior to entering the Nuetral area or Enemy Side

Safe areas:

Central Square and Rectangle area is safe zone, inlcuding all entrance paths including the first intersections.
15-ft safe zone around each flag
Your team's side

Pathway Rules:

Remote tagging (along paved areas): if a defender gets within 3 ft you are tagged.
No passing of a defender is allowed on or near a pathway.
(You may exit the pathway to run past on the grass if you are more than 3ft away from paved surface. You are automatically tagged.)
No running fast near pedestrian traffic (this includes the nuetral zone too)

Tagging

Remove an opponent's flag to tag them
Tagged? Walk to jail.
Stay in jail and wait to be tagged "free" or until the end of the game
Remote tagging along paved areas. (Pathway rules apply)
If you are freed from jail you must walk back to the nuetral zone before you can resume play
You are free to scream and holler from jail.
Jail is in fixed place, as indicated above. You may not wander around while in jail.
Tag a prisoner to free them (all must walk to nuetral zone)

Out-of-bounds... you may go anywhere but you must return to your side at the conclusion of each game
Be Respectful of any bystander and do not run too close to them. Please consult with the center judge if there is any law enforcement interference.
Game Cues

Game ends when a flag is presented to the center judge.
One long blast Whistle: let the game begin
Two short: game over - return to your side and listen for the next whistle

No Obstructing (getting in-front-of or crossing the path of a runner)

If you have an in-game question or debate, judges have final say
NO LYING OR CHEATING
Participate! Join us in the challenge! Suitable for beginners+ who bring their stilts and can walk/balance on their own.
This is sure to be a spectacle not to be missed